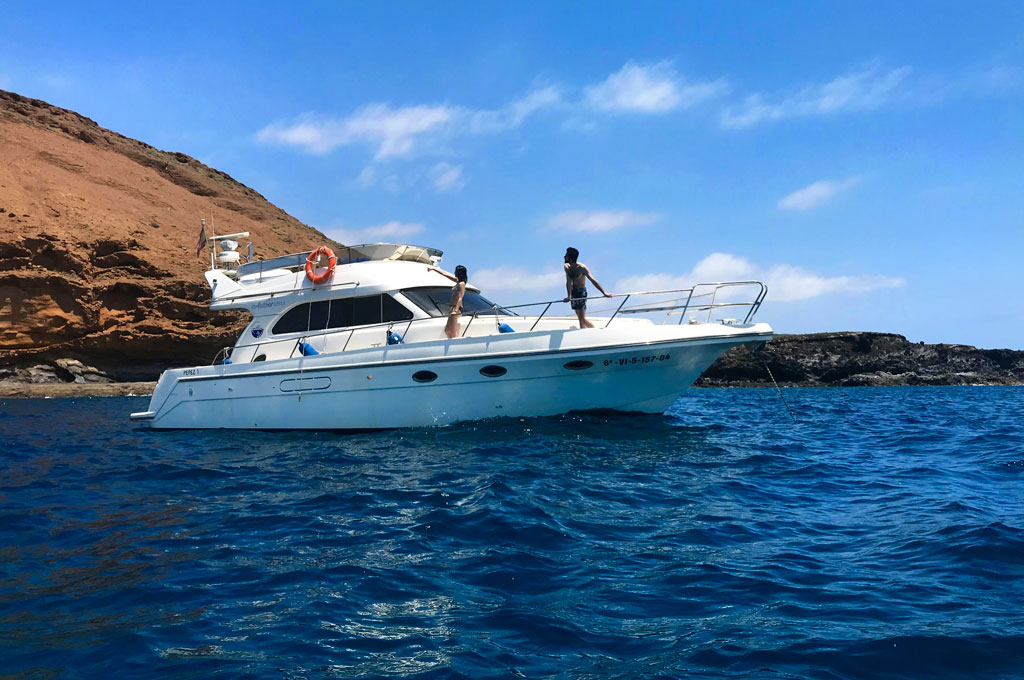 We offer full live aboard cruises or combined with overnight stays in apartments for 6 and 8 persons on Tenerife southwest and south of La Gomera.
The itineraries are flexible both in location and duration, and groups of 6 to 8 persons can be accommodated.
The yacht PEPEZ 1 of 13 meters in length, has three double cabins and two mattresses in the bow where you can overnight, along with two toilets (one inside the bow cabin), kitchen vitroceramic, microwave, generator on board, refrigerator / freezer, multimedia screen, double helm station with electronic control, outdoor shower, bathing platform, large flybridge with folding canopy and storage capacity + 30 cylinders.
For non-divers, the diving activity can be substituted or alternated with other activities such as try scuba dives, Peter Diving experiences of initiation to scuba diving without a tank on your back, a paddle in one of our inflatable kayaks, etc… That is why you can also join the trip accompanying certified divers and enjoy the day/s together. Likewise, on multi-day cruises, you could take a diving course to obtain the official 1 star FEDAS/CMAS diver certification.
Tanks and divers' equipment are prepared before each dive at the stern seats and accessing from the bathing platform makes the activity notably more comfortable. Between dives you can take off your wetsuit and relax with a drink and a snack in the inner salon or on the upper deck, or sunbathe on one of the bow mattresses. The boat is licensed for 60 miles and is category B, which allows for excursions with all safety measures. The range is 1 500 litres of fuel and 500 litres of fresh water.
In particular, we have added a specific protocol for the safety, cleaning and disinfection of facilities and equipment for the prevention of Covid-19. This protocol is presented to all the participants in the activities on arrival at the boat together with the general safety explanation of the boat that is always given.
We want to emphasize that we are passionate underwater photographers and the boat is equipped to make replacing lenses or recharging batteries easy. Paloma is an experienced underwater photographer who has participated in several regional championships and one national championship, and has prepared the interior salon counter and an exterior folding shelf to place the cameras and work on them.
As many of you know, due to the quality of the dives and the sea life in the area, Las Galletas hosted the last Underwater Photography World Championship and our boat was the training boat for the National Underwater Image Team.
For more information download the proposed itineraries: